Updated 7:00 PM 1/12 – Buffalo continues to add to their snow lead and are now almost 14 inches ahead of the next snowiest city, Syracuse. Albany was hanging in with the big boys for awhile but are starting to slip behind (go figure) and are now trailing the top spot by almost 2 feet of snow. Of course one Nor'easter that hangs to the east could put them back in the running.
Buffalo remains in 3rd place in the National snow contest as of yesterdays update and keeping up pretty good with the number 1 and 2 cities in that snow contest. There is still a lot of time left in the snow season for any of the cities to make a run 😉
—————————————————–
Updated 1/10 – I mentioned earlier that I was curious as to what the ice cover is on Lake Erie right now and T.W. posted a good link for me in the comments. Thanks T.W. 😉
Wow kind of comes to mind when I see how wide open it is right now. I was thinking that most of Lake Erie wouldn't have any ice on it because of how warm it's been up until this last week but wasn't expecting the whole lake to be pretty much wide open. Instead of a snow dance for Syracuse I might be better off doing a cold dance for Buffalo to help slow down their Lake Effect Snow Machine, Lake Erie 😉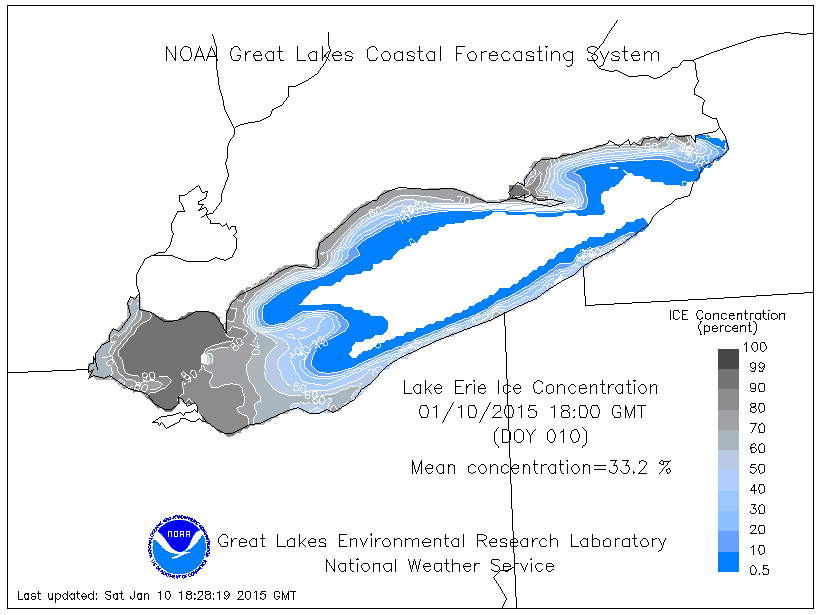 Click Here for All of the Great Lakes and the ice cover so far.
Buffalo is starting to pull away from the rest of us in the snow contest. They picked up another half a foot of snow yesterday, 6.5 inches of new snow and now lead last years snow champs Syracuse by over 9 inches. It seem like just a couple of days ago those 2 cities were tied. Oh Yeah, they were.
Buffalo is also doing pretty good in the National snow contest this season and as of the last update in that snow contest Buffalo was in 3rd place behind Erie, Pa and Grand Rapids. I'll be getting an update in for the National Big city snow contest in a little bit.
The snow race is far from over of course and if you look at the snow stats above you will see that Buffalo had an even bigger at this time as they do right now. I thought for sure that last season was going to be Buffalo's turn to wear the crown but they just missed by a couple of inches. Is this the season that Buffalo takes the victory lap around lake Erie.
Speaking of Lake Erie (ya like how I did that 😉 ) does anyone have any info on how much of it has frozen over so far? I'm thinking that a good portion is still wide open because of how warm it's been up until this week which I think will give Buffalo the advantage. Then again Buffalo did pretty good last season even though Lake Erie froze over really early. Even after the lake froze over Buffalo was still picking up enough snow to stay near the top right til the very end.
Stay Tuned for Hopefully another update later today. Have a Great Day All!