I figured I would pass this deal on the Tom Arma costumes for toddlers and infants along. The main reason being I have never seen Tom Arma costumes on sale like this and so cheap. They normally sell for around 59.00 and right now they are only 29.99 which is kind of crazy. I saw this when I was updating my toodlers Halloween costume site earlier and was pretty shocked how cheap the Arma costumes are.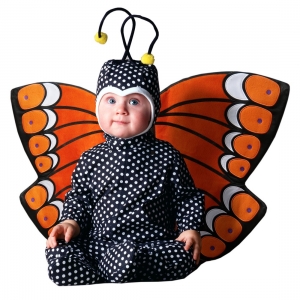 I don't know if it's a mistake or not but normally these all sell out every Halloween season. Maybe the costume store is just trying to make room buy selling Tom Arma costumes really cheap to bring in new stuff. Whatever the reason is if you have an infant, baby or toddlers this really is a great deal on Tom Arma Signature Halloween Costumes for the little ones.
Tom Arma Halloween Costumes
Click Here for Tom Arma Costumes
I took a look and they still have a lot left including the Tom Arma monkey costume, Tom Arma bear costume, the butterfly, panda, koala, gorilla and most of the others. Even though it's this early before the Halloween season the different sizes are starting to sell out fast. Like I mentioned, I don't know if this was a mistake on the price or just some sort of sale going on for Tom Arma costumes for toddlers and infants but I wouldn't wait too long. They are really cute costumes for you kids and just as good they look pretty warm for us in the Syracuse, Buffalo, Rochester and northeast which is nice for our normally cold Halloween nights we have here.
No I am not trying to jump past summer into Halloween but this is honestly the cheapest I have ever seen these Arma costumes go for. Enjoy the rest of the summer all 😉