First I want to give a big Thanks to Luke W. for your donation to the snow site. It helps out a lot and Thank You for taking the time Luke, I appreciate it


———————————————–
OK, Syracuse managed to not only hold on to the lead but when all the snowflakes were counted added to their lead but not by much. Right now it's just a matter of 0.7 inches of snow separating Syracuse and Buffalo in the Golden Snowball contest.
If I my mind serves me right and it normally doesn't by the way even when Lake Erie was frozen over early last season Buffalo kept getting snow so don't let that fool you. No doubt it probably slows Buffalo down some but last season proved it doesn't stop them 😉 Last season I thought Buffalo was going to pull it off but I think Syracuse got lucky and the warm air moved in.
Last season was realty close and Syracuse had just enough snow to beat Buffalo by only 2.1 inches. I believe that last season was the closest the snow race has been since we started keeping stats in the 2002 – 2003 snow season. Is this the season that Buffalo takes the bragging rights away from Syracuse and better yet get's Buffalo permanently engraved on the Golden Snowball Trophy?
Since the resurrection of the Golden Snowball contest Rochester has been the only city to dethrone Syracuse as snow champs. I'm still not even close to counting Rochester out this season. Rochester, just like Buffalo and Syracuse can tap into some Lake Effect snow or better yet some late season snow storms that most likely will be coming. I do think the time has come though for The Roc to start turning it up a notch and maybe even do a little snow dance to help them catch up 😉
Do I look Like I am Ready To Part with The Golden Snowball Trophy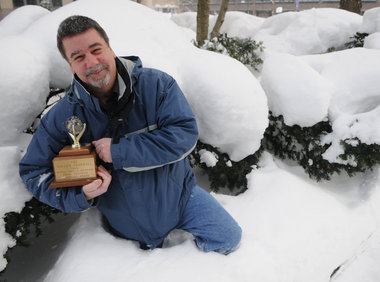 Photo by Dennis Nett of The Post Standard
Stay Tuned and Have an Awesome Day