Scary Inflatable Clown Halloween Decorations
I'm guessing with all of the clown sightings going on down south recently that the inflatable clowns will be one of the best selling Halloween decorations this year.  So far from what I have heard and read there have been clown sightings in Tennessee, Kentucky, Georgia, Pennsylvania, Arkansas, North Carolina, South Carolina, Arkansas, Kentucky and I'm sure I am missing some states.
When I was updating my Halloween inflatable blowups site I came across these Scary Clown inflatables for this Halloween.  I'm guessing these are going to be one of the popular Halloween yard decorations this year.  Of course, the clown sightings have to be taken seriously because some of the reports I've read are about clowns trying to lure kids into the woods.  I've also seen a few stories where the children made it up.
Scary Inflatable Clown Blowups for Halloween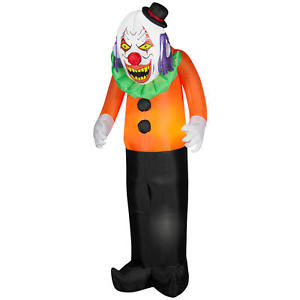 Click Here For Inflatable Clown Decorations
I don't think I am going to dress up as a clown this year for the fact that I think sooner or later someone is going to get hurt and probably someone just messing around.  I'm still visiting down south right now and I'm guessing there will be a lot of clown costumes this Halloween.  You may want to rethink that choice, just saying.
OK, back to the inflatable clown decorations and other Halloween Inflatable blowups for your yard.  Halloween is about scary stuff, having fun so here are a few links to my Halloween site which has about 2000 Halloween inflatables including clowns, inflatable witches, ghosts, and other airblown scary Halloween blowups for your yard this year.  Most are from either Walmart, Ebay or Halloween Express and I do get compensated for any of your orders so Thanks ahead of time ; Make sure you compare the prices if you buy your Halloween inflatable blowup at Ebay and keep in mind that different sellers will have different shipping costs.
Click Here for Halloween Inflatables and Yard Blowups
Have a fun, scary and safe Halloween everyone!