Updated 12/10 – 11:30 PM – Syracuse is reporting 11.5 inches so far for today as of 10 PM. I'm holding off on moving both Syracuse and Binghamton up the snow hill for the fact that the other 3 cities haven't reported yet as I'm typing and their stats won't come out until tomorrow, early morning. I'm looking forward to seeing which city is in the lead come morning. I'll do an update when I wake up. Ummm, Just a heads up that I tend to sleep in every now and then 😉 Drive careful everyone…
—————————————
Updated 12/10 6 PM – Syracuse is winning this round of snowfall so far and has slid into the second place slot on the hill as of the last update. Below are the snow stats that are being reported for yesterday and today. Keep in mind that Albany isn't reporting this update.
Syracuse – 11.6
Binghamton – 7.1
Rochester – 3.6
Albany – 3.6 Yesterday, Not Reporting for Today
Buffalo – Trace
——————————-
Updated – 12/10 10:30 AM – Albany slips past Binghamton and moves into second place on the snow hill. I think it's going to be really interesting to see which city is in the lead by the time this storm is over

.
Well the snow is finally falling in CNY and it looks like Rochester may be getting in on the fun too. The roads are slick so take it slow. Here is a good up date of some official and nonofficial snow stats measure across NY in the areas that the snow has been falling. Because of the temperatures the snow got a later start than I think was expected so we'll have to wait and see if we all can make up for it.
Snow Storm Damon Totals so far from the National Weather Service
—————————————————-
Another snow storm is heading up the coast and heading our way and this storm may help Syracuse's and Binghamton's snow totals out.  Snow storm Damon is expected to drop several inches and maybe up to a foot of new snow around the Syracuse and Binghamton area.  As always, these storms are hard for the pros to predict because the path of the storm can change plus it also depends on whether the temps stay above or below freezing.
Keep in mind also as always, we are clueless here so check with your favorite forecasters the next few days for your area.  Below are some links to the National Weather Service with the latest snow storm watches and warnings.  Most likely I'll be updating this section with all of the cities new snow totals as they come in.
It will be interesting to see if the storm moves to the west enough to help Rochester and Buffalo add some snow to their totals.  I think Albany will get something and how much will depend on when it changes over from rain to snow. Right now Buffalo, Rochester and Albany are under Storm watches while Syracuse and Binghamton are under storm warnings. Watches means mean the potential is there so keep an eye on what's going on. Warnings mean the storm is expected to pan out. Not exactly in those words but I'm sure you get my drift 😉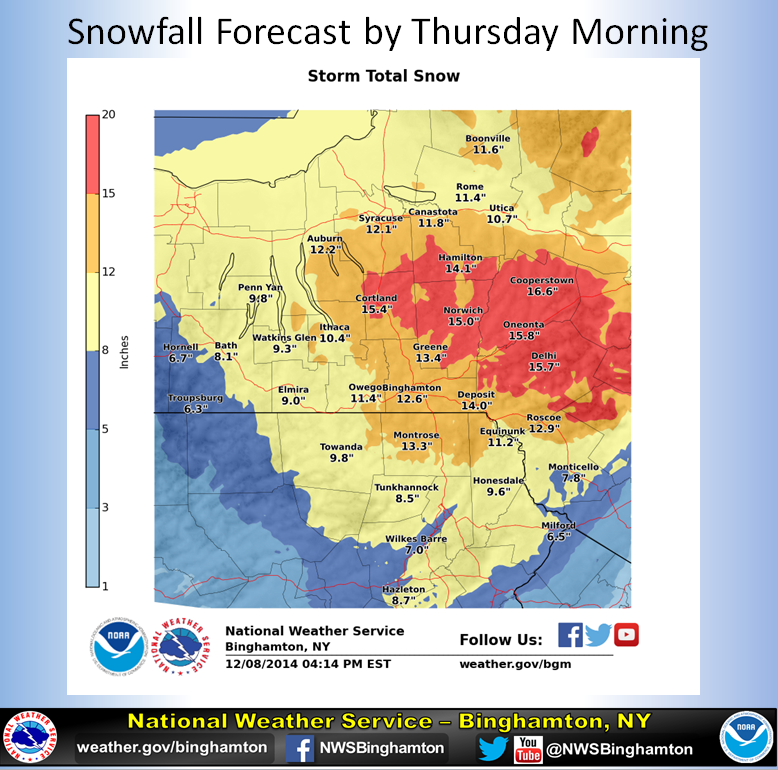 AGAIN, clueless is typing this 😉  From reading around it looks like it will start with rain in some of the cities, maybe trow in a mix of freezing rain and then switch over to snow as the temps drop.  Check below for the snow storm warnings and estimated time of the arrival of storm Damon.  
Snow Storm Watches and Warnings
Rochester Storm Watches and Warnings
Stay safe and take it easy on the roads as always

See Snow – Take it Slow!