First, as always, a Big Thank You to Donald R for your donation to the Golden Snowball site. It was the first donation of the season to the Golden Snowball site and it really helps out. I Truly appreciate it and Thanks, Donald


—————————————————————-
Updated 12/30 6 PM – OK, the new evening snow stats are out and they show Syracuse has taken the lead from Binghamton, again. Or maybe it's the 1st time this season, who knows and I guess it doesn't matter much. The snow that was taken away from yesterday's totals wasn't added in this update so it looks like it was an adjustment made to the totals yesterday. More below about that and Congrats Syracuse!!!
—————————————————————–
Updated 12/30 Noon – Hold on Syracuse, not so fast! I wake up this morning and I check the new snow stats to see if any of the cities had more snow to add for yesterday. When I look at the Syracuse snow totals from the National Weather Service in Binghamton I see that they were lower than what was posted at around 10pm last night.
I'm guessing that the NWS either made an adjustment or maybe just made an error on the last update they put out. We will know a little later this afternoon when the next update comes out at around 5pm give or take a little. I put Binghamton back on the top for now as I always go by what the NWS is showing on their site. Below are a couple of screenshots of the snow stats to let you all see what I see. Careful driving today!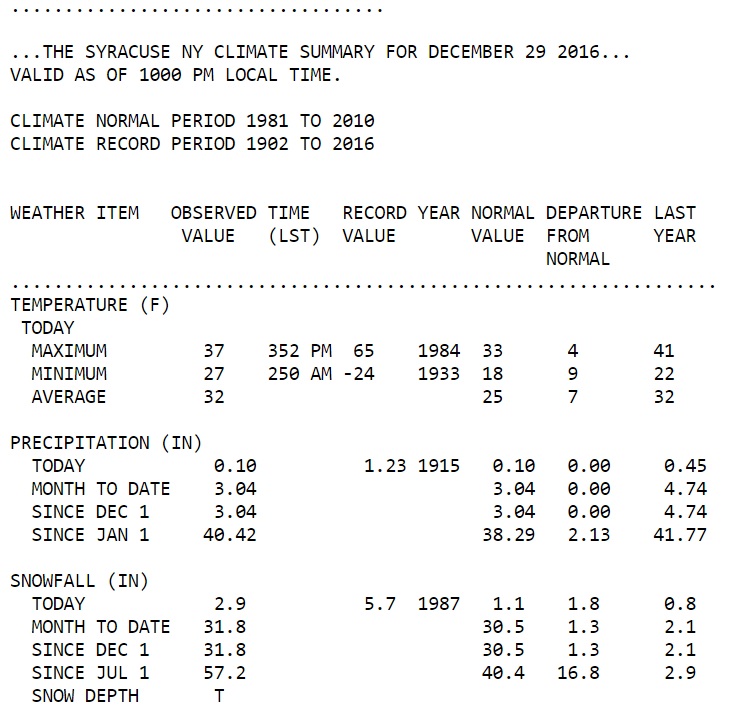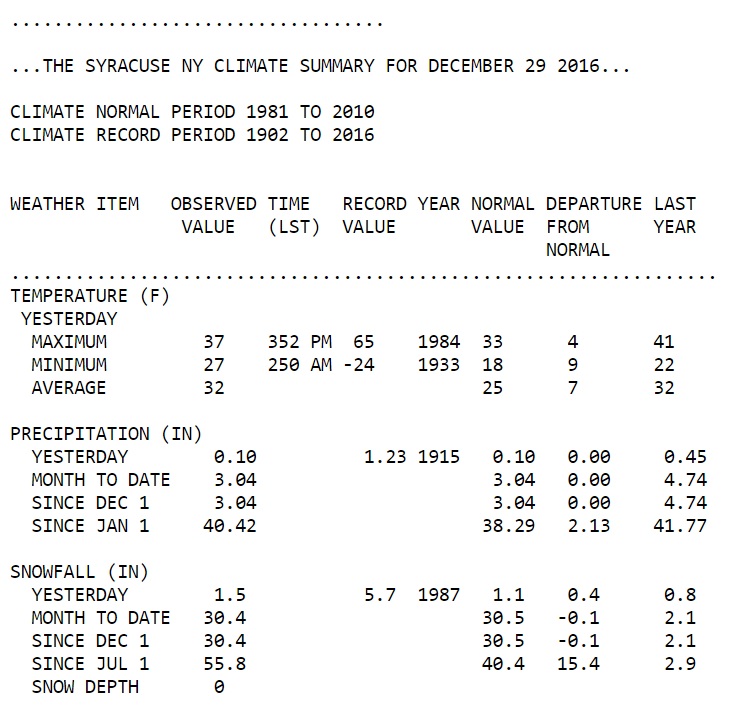 Posted 12/29 11pm –
Syracuse leads Golden Snowball Contest for 1st Time This Season
Syracuse, NY has finally slipped passed Binghamton to take the Top spot on the snow hill for the 1st time this season. As of the last update at 10:00 PM, 12/29 from the National Weather Service yesterday, Syracuse was reporting 2.9 inches which was just enough to slip past Binghamton, NY which was reporting 2.5 inches as of 10 pm.
Syracuse was trailing Binghamton by 2 tenths of an inch at the end of Wednesday, 12/28 and has been behind Binghamton all season long. Binghamton has been in the lead most of the snow season other than a brief period when Albany, YES Albany, was on the top of the snow hill. Binghamton has already passed the total snowfall that they had for all of the last season, 2015-2016, which was only 32.0 inches. As of the last update, Binghamton is showing 57 inches of snow so far this season.
Syracuse as of the last update from the NWS is showing a snow total of 57.2 for the season which is just enough to take the lead from Binghamton. Right now it's still snowing and chances are pretty good that the lead will grow today and tonight with more snow expected.
Stay tuned and I'll be posting updates right here as the National Weather Service keeps putting them out. Keep in mind that the snow falling is Lake Effect snow so it can change at any time. Stay safe and take it slow on the roads.